Top 5 Hilarious Bugs and Glitches Found in Sims 4 High School Years
We just keep laughing. It's too hilarious!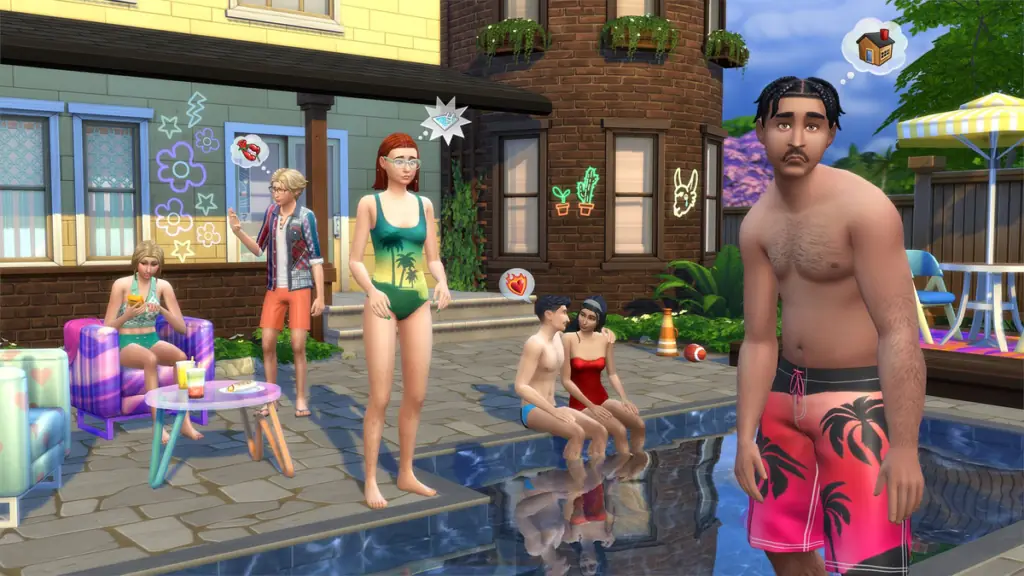 HAHAHAHA!!! We knew this would happen. Everyone, let us collectively poke fun at the hilarious glitches that were found in the newly released Sims 4 High School Years. We could always do the same old thing and shake our heads in disappointment, but not right now. The glitches and bugs in the game are too good for Sims 4 fans to ignore. Twitter is having a field day with people expressing disdain for the pack because of how broken it is. This isn't anything new as previous expansion packs had their own problems. We're going to gather the top five hilarious bugs and glitches found in Sims 4 High School Years…so far.
Top Bugs & Glitches Found in Sims 4 High School Years
There are no bugs in Sims 4. This article was a prank. The new pack is perfect and bug-free….we wish that was actually true. We wanted the new High School Years Pack to be a success, but sadly, reports of tons of bugs and glitches in the game resulted in Simmers not having a fun experience. Fortunately, Sims fans know how make the best of a bad situation. Here are the top hilarious bugs and glitches you can come across when you purchase the new High School Years Pack.
Origin DIES
The servers just died. There was a murder witnessed by many. Not necessarily outright funny, but shockingly hilarious at how inept it all feels is Origin servers going down. Consumers are having a difficult time getting the game on Origin because the servers aren't working. People are having issues trying to get the game to download, there's been tons of crying, and some people are just flat up calling it quits. The pack has crashed Origin servers and some people have been trying to refresh it. This might be a blessing in disguise because for those who have it, well, they're not as lucky.
Sibling Love
Because of course they would make incest a thing in Sims 4 High School Years. Many players are not impressed with the new glitch that allows family members to have, well, feelings towards one another. This is not a random occurrence and EA Games has done this before in the past. This glitch just doesn't want to die. The new wants mechanics are causing teenagers to have lustful feelings towards their brother or sister. Thankfully, the children and toddlers aren't being preyed upon. Maybe EA Games should fix this bug because we are not into this.
Stop Aging!
This is a major bug that is causing toddlers to age up rapidly. Within minutes. Imagine just being brought into this life and a few minutes later you're now a senior citizen? Imagine the confusion. It turns out that even the Sim toddlers don't want to live in a Sim world. They want to leave it as soon as they can. Thankfully, the Sim team has updated Simmers on the chaos and their suggestion is to turn off long or short lifespan.
Hey Simmers! We are currently investigating instances involving Sims auto-aging up in saves using the Short or Long lifespan. We recommend temporarily playing in or creating new saves with the default/"normal" lifespan, as we work towards a solution.
Bad News Console Players
You thought you were safe console players? No one is safe from the bugs! The glitches have made their way towards consoles and a player has documented all of the bugs they've experienced in the past seven days. This includes dating your sibling, not going to work, and sims being misgendered regularly. I think the funniest one we've read on this list would have to be they can't clean their highchair. If you're a simmer you know nobody uses high chairs. They're a useless item. Just take your plate of food and feed your child on the floor.
Special Delivery!
The poor moms are not safe with this one. There's a glitch where the mom is flying out of the machine to deliver a baby. They've gone through so much. They've been in pain for days, craving food, and not being able to rest. They finally can give birth and instead of having a successful pregnancy they are flung into the air, while their incompetent doctor spazzes out. Make it make sense. Let's just have a glitch free birthing experience, please.
Seriously, EA Games, thank you for the laughs for these hilarious bugs and glitches in Sims 4 High School Years. Thank you for releasing a pack with all these problems so we can all collectively come together to laugh about it. We hope the bugs and glitches will be fixed so we can continue playing the new expansion. These things take time and we're certain that EA Games will patch everything up.